Ontario Fly-in Outpost Fishing, Ontario Bear Hunting and Ontario Deer Hunting
with Pickerel Lake Outfitters in Northwest Ontario, Canada
Ontario fly-in outpost fishing, Ontario Bear Hunting, Ontario deer hunting with Pickerel Lake Outfitters in Northwest Ontario. Fishing guests fly from Crow Lake, north of Nestor Falls, into one of the outposts of your choosing for a memorable trip. Bear Hunting or deer hunting trips are done from our main camp, north of Kenora, on Highway 596. .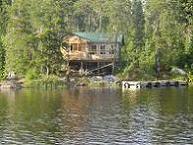 Our Ontario outpost fishing cabins are on secluded fly-in lakes that offer great views and excellent fishing. If you're looking for privacy we have what you want to get away from it all. Bear and Deer hunting cabins are at our drive to location on Pickerel Lake Road in northwest Ontario. Brown Bear lake has a fly-in outpost Bear hunt available. We offer a very limited number of bear hunts per season, so you should call early to make arrangements. We can be reached at (807)543-3113 or E-mail Us to book your trip now!
Designed with your comfort in mind, each of the cabins are situated on the best vantage point on the lake. Guests fly in to our outpost lakes by chartered aircraft from the seaplane base on Crow Lake, north of Nestor Falls. Most of the lakes are part of the English River system, which eventually wind up in Hudson's Bay.
Each of our fly-in lakes offers something different to fish for. Norse Lake Outpost offers great walleye, northern pike and smallmouth bass fishing. Treelined Lake Outpost offers trophy smallmouth bass fishing and large northern pike fishing. Brown Bear Lake Outpost has great smallmouth bass, walleye, northern pike with lake trout fishing in one of the portage lakes. Gordie Lake Outpost has heavy northern pike and walleye fishing and last but not least is our newest to us, outpost, Unexpected Lake Outpost offers awesome walleye, northern pike, smallmouth bass and great muskie fishing which can't be beat!
We also have great Ontario Black Bear Hunting, Ontario Whitetail Deer Hunting, Ducks, Geese or Grouse hunting from our main lodge on Pickerel Lake, which is located north of Kenora on Highway 596. Combine a grouse and Bear hunt at the later part of the season.
Our Bear and Deer Hunting lodge is located 20 minutes north of Lake of the Woods, on the eastern limit of the North American Central flyway, which makes for great Grouse and Waterfowl hunting. Dotted with lakes, rivers and marshes, this area is teeming with wildlife.
Our Northwest Ontario fly-in outpost cabins have amenities you wouldn't ordinarily expect from a fly-in fishing experience. From the deluxe cabin that have hot & cold running water, hot shower, futon in living rooms of all cabins except Brown Bear and Unexpected cabins, wood stove, bright kitchens with propane stove and refrigerator, large screened in porches, fish cooker and propane barbeque.
E-mail Us for more information.
Here is a link to Kenora Weather